De Bethune is an independent Swiss watch manufacturer located at L'Auberson, in the Jura mountain pastures of the canton of Vaud, Switzerland. Here, some 30 employees, including watchmakers, engineers, developer-designers, micromechanical engineers, polishers and decorators focus firmly on the research and development of technical and aesthetic innovations in the spirit of the great 18th century master watchmakers.
Tourbillons, perpetual calendars, chronometers, deadbeat seconds, spherical moons, bridges, wheels, pallet-levers, balance wheels, pinions, balance springs and screws as well as cases, dials, floating lugs and hands... Each component is individually designed and crafted with meticulous attention to the slightest detail, including the traditional "Côtes De Bethune" and Microlight engraving.
The brand designs, develops and produces all its timepieces within its own Manufacture. Since its foundation,

De Bethune has developed no fewer than 29 calibres, presented some 30 world premieres and registered a large number of patents as well as producing 150 one-off pieces.
De Bethune has received the highest distinctions awarded by the watch industry all over the world, including the Grand Prix d'Horlogerie de Genève "Aiguille d'Or" Grand Prix for the best watch of the year.
Today, Denis Flageollet, co-founder of the brand and master watchmaker, together with CEO Pierre Jacques, are spearheading the future of the company. The pure style, clean lines and delicacy of the cases represent the inimitable hallmark of De Bethune creations.
De Bethune's timepieces can be seen worldwide in our 25 exclusive points of sale and in our showroom in the heart of Geneva's old city, in a refined, yet welcoming, contemporary setting that wholly embodies the spirit of De Bethune.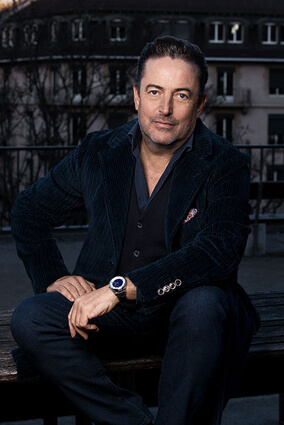 Pierre Jacques
Chief Executive Officer
Swiss but Born in Brussels on December 8th, 1967, Pierre Jacques holds a Master¹s Degree in "International Relations". In the year 2000 he founded the quaterly magazine GMT, together with Brice Lechevalier, that has since become an international reference publication in the field of fine watchmaking. In 2005, the city of Geneva made him responsible for the "Cowparade", an open-air exhibition of 80 real-size cows, each decorated by an artist. In January 2010, he joined Les Ambassadeurs Geneve as Branch Manager, and also headed the Geneva Watchmaking Grand Prix as director of the organising company. Since January 2011, Pierre Jacques is the CEO of De Bethune, and became in December 2017 the new President and shareholder of the Manufacture De Bethune. Together with Denis Flageollet, they form an effective team that is propelling De Bethune and its consistently modern creations towards an even brighter future.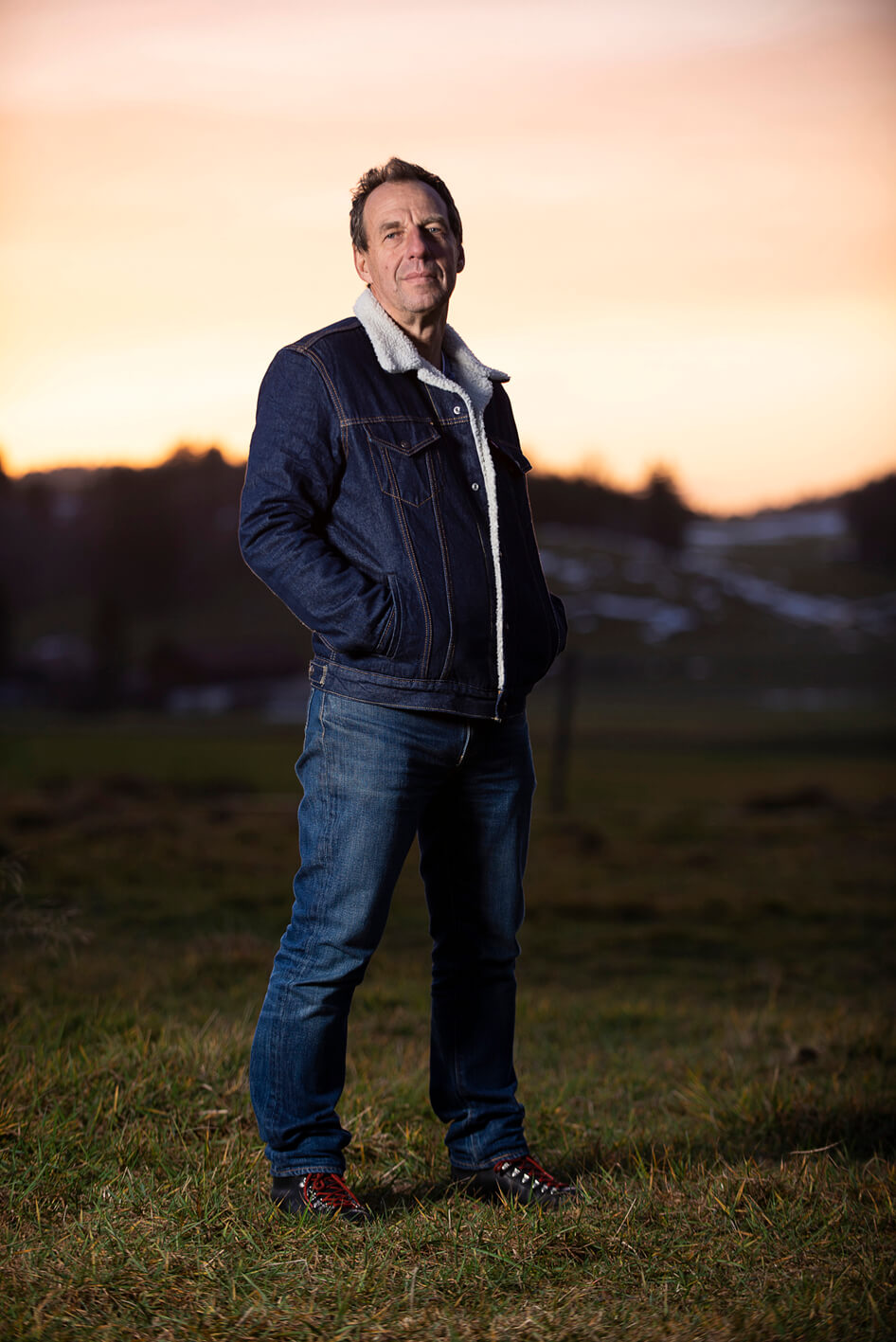 Denis Flageollet
Master Watchmaker & Creative Talent
Denis is the son, grandson and great-grandson of watchmakers. Having majored in science at secondary school in France, he went to Switzerland to study watchmaking and micro-engineering. He then completed his training by joining the "Musée du Locle" as a technician in antique watchmaking. In 1989 he co-founded the THA society with François-Paul Journe. During these twelve years developing THA, he set up the production workshops, handled technical management, and headed the R&D department. In 2002 he co-founded De Bethune. He has fully embodied De Bethune's deeply rooted philosophy of combining classic watchmaking skill and craftsmanship with a contemporary technical process, enabling him to leverage modern CAD and CNC technologies. His work with De Bethune has been rewarded by two national prizes, 15 international prizes, and is research has resulted in eight patents and two registered designs. Today, in building a training course on "Mécanique d'Art," his aims is to pass on his experience and knowledge to watch enthusiasts and the up-and-coming generation of watchmakers.
" A watch is a fragment of culture on the wrist"
Denis Flageollet
David Zanetta and Denis Flageollet found De Bethune in L'Auberson, a village near Sainte-Croix in the Swiss Jura. They create an R&D department which will become one of the most innovative in the entire Swiss watch industry.

Patent filed for the balance-wheel and hairspring

Stemming from research undertaken on the balance-and-spring assembly, the balance is composed of four arms made of light metal (titanium) in the centre, complemented by four inertia weights made of a heavy metal (platinum). The balance-spring with its flat terminal curve serves to maintain a perfect centre of gravity – a major innovation in watchmaking since the invention of the Breguet hairspring.

Patent filed for the spherical moon-phase display

De Bethune is the first watch manufacturer to adapt a spherical moon phase to a wristwatch format.

A new innovation for De Bethune, which becomes the first to use the natural oxidation of titanium, on a star-studded sky dial that is a signature of the Maison.

Triple pare-chute shock absorbing system

De Bethune is not only the first to create a bridge symmetrically held on both sides, serving to maintain the balance-wheel perfectly in place, but also adds two shock-absorbers on either end, along with that of the balance-wheel itself. Hence the name triple pare-chute which, with its springs (instead of screws) mounted on perfectly polished arbors, effectively absorb and dampen violent impacts.

These are a De Bethune signature. Rarely copied and a byword for quality because they require a very special touch, "Côtes De Bethune" ensure an original vision of the movement, drawing the gaze towards the centre. Although the work is more meticulous, the result is a visual miracle, since "Côtes de Bethune" are symmetrically arranged from the centre and serve to concentrate the light at the heart of the watch.

A new shape design for this titanium-platinum balance-wheel. Shaped like an X, it introduces new subtle adjustment features thanks to two dedicated screws connecting its two closest tips. The platinum inertia blocks are also improved by adopting a conical shape.

De Bethune receives the "Best of the Best" award

The DB15 model, equipped with the first Manufacture De Bethune calibre, is honoured with the "Best of the Best" award by the prestigious Robb Report magazine.

Creation of the DBS No 1 for the first edition of Only Watch, the charity auction organised under the patronage of HSH Prince Albert II of Monaco on behalf of research into muscular dystrophy.

New balance-spring in thermocompensated silicon

De Bethune is the first watch Maison to equip its timepieces with a silicon balance-spring. Using a structure similar to the titanium-platinum balance-wheel created in 2005, the latter is replaced by silicon and coupled with a bimetallic brass and invar blade compensating for this innovative material's sensitivity to temperature variations.

De Bethune balance-spring

First use of a silicon balance-spring with an integrated flat terminal curve.

A patent is filed for the floating lugs that pivot from the case enabling them to adapt perfectly to all wrists and their various gestures.

Shock-absorbing system for the oscillating weight

This is a traditionally heavy movement component, secured in the centre and which, if subjected to an impact, will have a brutal lever effect on the extremely fragile bearings. To avoid this, driven as ever by a pragmatic physical and mechanical approach, De Bethune has devised an innovative system of tiny spring-feet arranged in a four-spoke rosette around the bearings, which dampens impacts and thus avoids any damage. The oscillating weight is no longer in danger and the bearings are also protected.

Revolution Magazine awards the "Best Men's Watch" prize for the DB21 Maxichrono.

Winding-speed regulating mechanism

A system unique in the watch industry, enabling the wearer of the watch to adjust the winding to the quantity and the speed of his own movements.

The Monaco Association against Muscular Dystrophy organises its second auction in Monaco. To continue showing its support for this cause, De Bethune creates the DB24 equipped with a platinum bezel.

This new titanium-platinum balance-wheel features the same X-shaped arms, but the two screws are replaced by two gold inertia weights further enhancing the thermodynamic properties without impairing adjustment.

Chronometric setting mechanism

This world-first invention enables each owner to adjust the rate of his watch by simply pressing one of the two pushers on the back of the watch.

First use of sapphire hands

By introducing sapphire hands rimmed with flame-blued steel, De Bethune offers – for the very first time – a daring date read-off solution.

On this balance-wheel, platinum is replaced by palladium to optimise its operation, notably in terms of thermocompensation.

Among the various decorations characterising De Bethune movements, one offers a resolutely updated interpretation of the traditional guilloché technique: Microlight engraving. Applied to the dial, on a movement, to flat surfaces or raised edges, this technique effectively accentuates or reinforces a given structure or motif. By playing with light and shade effects, it adds a sense of depth and creates a more dynamic, architectural result, thereby ensuring a more contemporary overall effect.

The world's lightest tourbillon

To be more effective on a wrist with its fast, random movements, the tourbillon must have the highest possible frequency and rotation speed. After two and a half years of research, De Bethune releases the first tourbillon truly designed to be worn on the wrist. Comprising 63 parts and weighing just 0.18 grams, this silicon/titanium tourbillon is the lightest and fastest on the market, performing a full rotation every 30 seconds and beating at a frequency of 36,000 vibrations/hour. Simply put, this small, light and fast De Bethune tourbillon better fulfils its function for today's watches.

The Dream Watch 1 is "Best of the Best"

The Dream Watch 1 wins the "Best of the Best" prize awarded by the prestigious American magazine Robb Report.

On the occasion of the third auction organized by Monaco, De Bethune presents the DBS, a unique watch convertible into a pocket watch or a wristwatch.

The balance-wheel is the object of continuous research at De Bethune and this new iteration has been successfully tested. Openworking the disc makes it lighter than ever and its palladium rim is replaced by white rim which is even simpler to machine and thus further enhances its aerodynamics.

To enhance De Bethune's international renown, Pierre Jacques joins the team as CEO of the company.

Jumping seconds traditionally operate with their own gear train which implies more components and an additional concern for adjusting the parts to each other. Based on this observation, De Bethune sought to simplify this mechanism by starting directly with the fourth wheel, and by adding an additional wheel driven by a balance-spring. Thanks to a twin lever, the hand of this jumping small seconds is "released" every second and can "jump" thanks to the stored energy.

A DB25L depicting the star-studded sky commemorating the founding of Monaco by François Grimaldi on January 8th 1297 is De Bethune contribution to this new edition of the famous charity auction organised under the patronage of the HSH Prince Albert II of Monaco on behalf of research on muscular dystrophy.

"Aiguille d'Or" Grand Prix

The DB28 won the highest distinction of the Grand Prix d'Horlogerie de Genève, the "Aiguille d'Or" Grand Prix that honours the best timepiece of the year, awarded by a jury composed of watchmaking professionals.

Fundamental research: "résonique"

Breaking free from the balance and hairspring principle invented by Hugyens in 1675, Denis Flageollet began exploring new paths from 2011 onwards, particularly in the field of horological résonique. The principle is based on oscillators with mechanically driven high frequencies – up to 100 times faster than the frequencies currently reached – by means of vibrations and without friction or wear. The scope of research in this field was so vast – and as yet largely unexplored – that it is simply unpatentable. Denis Flageollet published and continues regularly publishing the progress of his work on this topic so as to contribute to the advancement of such research.

The first De Bethune boutique

De Bethune opens its first boutique at the heart of Geneva, on the Place de Longemalle.

Hand-fitting mechanism with rotating disc

In order to free up the dial centre and leave plenty of place for the décor, a new calibre has been developed to enable a peripheral display of the hours and minutes. The latter, thanks to the technical mastery and precision of the machining, sends the hands sweeping through the various decors as if by magic.

Black oxidation of zirconium

De Bethune unveils the first versions of the DB28 with cases and floating lugs in black zirconium. It's the only metal that has natural black oxidation colour, and which does not deteriorate. Assets that guarantee the resistance and durability of the watch.

The DB25 IX Mayan Underworld, the limited edition created on the occasion of humankind's passage into the new underworld of the Maya calendar, receives the "Best of the Best" award from prestigious American magazine Robb Report.

The DB28 Skybridge MC, depicting the night sky as seen from Monaco on November 19th 1857, the Monaco National Day, is sold at auction on behalf of the Monaco Association against Muscular Dystrophy.

The DB28 Tourbillon Black Gold wins the "Marca en Ascensco" prize at the Salón Internacional Alta Relojería in Mexico.

Introduction of the absolute clutch

After seven years of research, the release of the Maxichrono marks the first use of De Bethune's patented absolute clutch system. Challenging, exploring, inventing… With the absolute clutch system, De Bethune has created a significant technological breakthrough in the history of chronographs. One might sum up the issues in terms of excessive friction which disturbs the running of the movement in chronograph mode, as well as when operating normally, all of which leads to a recurrent loss of precision and reliability. It was thus essential to find an efficient, carefully guided clutch, mounted on a single arbor, requiring little energy as well as simple to assemble and set into operation.

"Reloj Cronografo" prize at the SIAR

After the success of the "Marca en ascenso" in 2013 at the SIAR, the DB29 Maxichrono won the "Reloj Cronografo" prize celebrating at the Best Chronograph of the Year.

De Bethune won the "Chronograph Prize" at the Grand Prix d'Horlogerie de Genève for its DB29 Maxichrono Tourbillon.

"Best Design & Concept Watch"

The Dream Watch 5 and its unique case construction makes it a veritable wrist sculpture. The timepiece wins the "Best Design & Concept Watch" prize awarded by Spiral magazine.

The DB28 Maxichrono wins the "Best Chronograph Watch" prize

In its turn the DB28 Maxichrono wins the "Best Chronograph Prize" from Middle East magazine MPP.

The DB29 Maxichrono Tourbillon crowned "Best of the Best"

The DB29 Maxichrono Tourbillon is awarded the "Best of the Best" prize by the prestigious American magazine Robb Report.

De Bethune Princely Polo Cub

On the occasion of the De Bethune Princely Polo Cup held in Vaduz, Liechtenstein, De Bethune unveils the DB27 Polo and its exclusive use of blackened polished hardened steel as well as its dial protection ensuring optimal user-friendliness for polo players.

De Bethune celebrates ten years of commitment and support for the Monaco Association against Muscular Dystrophy, by revisiting the DBS model of which the first version had been created in 2005 for the first edition of Only Watch.

The balance-wheel remains the object of ongoing research for De Bethune, which unveils a new titanium balance-wheel with white gold inlays. This construction serves to counteract the effects of temperature variations and ensures optimised aerodynamics to reduce air friction, a significant source of disturbance.

Prize at the Luxemburg Watch Fair

The DB28 Maxichrono wins the "Best Chronograph" prize at the Luxemburg Watch Fair.

Showroom opening in Geneva

De Bethune opens a new showroom at the foot of the cathedral in Geneva's old town, an even more exclusive new location.

"Best Tourbillon Watch" award

The DB28 Kind of Blue Tourbillon wins the "Best Tourbillon Watch" prize awarded by the Middle East MPP magazine.

The DB28 Kind of Blue Tourbillon wins another prize, this time in the "Best Design" category awarded by the international magazine Revolution.

The star-studded sky is one of the iconic De Bethune signatures. By enriching it with the fascinating Milky Way, the Maison offers an enchanting vision of the latter's nebulae, hand-crafted with meticulous patience exemplified in applying the 24K gold leaf.

For Only Watch 2017, De Bethune has taken aesthetic cues from the iconic architecture of the new Monaco Yacht Club designed by Foster & Partners in creating a titanium table clock combining mechanics, architecture and technology.

A 26th calibre from the Maison

De Bethune releases its 26th self-winding calibre, equipping the new DB27 Titan Hawk V2 model.

De Bethune draws inspiration from Japanese Tsubas in creating an entirely engraved and resolutely contemporary timepiece paying tribute to the shared heritage of goldsmiths and watchmakers. A Tsuba is a small circular piece placed on Japanese swords as a guard, serving to protect the samurai's hand when the opponent's blade slipped on his sword. Today, De Bethune reinterprets it with inlaid and engraved gold animal motifs that transcend matter by infusing it with strength and light.

De Bethune creates a timepiece paying tribute to the finesse and extreme delicacy of the Asian engravings generally adorning bronze vases. Faithful to the spirit of Chinese engravers and poets, the delicately engraved titanium dial is hand blued and embellished with gold particles depicting a 'choreography' performed by the carp and dragon. The effect is further enhanced by 12 diamonds serving as hours and minutes markers, while adding a unique and precious radiance.

Grand Prix d'Horlogerie de Genève

De Bethune won the "Chronograph Prize" at the Grand Prix d'Horlogerie de Genève for its DB25 Starry Varius Chronomètre Tourbillon.


The first De Bethune sports watch

At the occasion of the Geneva Watch Week 2019, De Bethune presents its first 100% sports watch. This new chapter begins with the DB28GS Grand Bleu, a technical and elegant diver's model. It was designed and developed to be a resolutely sporty watch, adapted to the active life of today's men, pursuing ingenious reflection while improving precision, reliability, readability and comfort. New caliber, water resistance to more than 100 meters, excellent readability including in the darkest depths thanks to ingenious lighting inside the movement and a new photoluminescent blue, a different bezel that rotates this time with the crystal to indicate dive times, a titanium case for a light feel and a rubber strap for convenience, along with a five-day power reserve.

Miami. The magic city is bathed in all hues of blue. It is no coincidence that De Bethune chose the iconic DB28 Kind of Blue to celebrate the second edition of the Miami Watches & Wonders event, with a special USA edition available with an elegant Pink Gold case. Only 10 numbered timekeepers, reserved exclusively for American clients, have been produced.

DB21 Maxichrono Réédition

Simplification can sometimes be singularly complicated. First presented in 2006, the first DB21 "Maxichrono" was born from a precise and clear vision of the chronograph in the mind of Denis Flageollet, Master Watchmaker and co-founder of De Bethune. The vision? To create watchmaking's purest and most absolute chronograph. To endow it with a resolutely contemporary expression. And to rethink its design, along with its architecture and technical construction. The DB21 Maxichrono reedition is a model that is pure, absolute and radical in its approach, thanks to its principle of five hands mounted on a single central axis and controlled by a simple single pusher.

Placing innovation at the heart of the creative process… With complete mastery of the art of thermal oxidation of metals, De Bethune continues to explore all the colour shades resulting from the heat released by the chemical reactions of heat-treated steel and titanium. True as ever to the natural colours of the four elements – sky, water, earth and fire – De Bethune now explores a warm colour (as opposed to the cool colour of blue) with the DB28 Yellow Tones, the hypnotic radiance of fire.

"Best Sport Watch" prize

at the SIAR

In october 2019, De Bethune won the "Best Sport Watch" prize at the Salon Internacional Alta Relojeria in Mexico City

Only Watch Auction

In support of the prestigious biennial Only Watch charity auction of unique timekeepers, two great independent names - De Bethune x Urwerk - join their creative energies in bringing forth a timepiece that arouses curiosity, focuses attention and touches the senses.

DW5 Armilia, a one-off creation from our Maestri'art Collection

De Bethune delves into the fantastic universe of graphic novel artist François Schuiten – also known as the "Watchmaker of Dreams" – and engages in a dialogue with the enigmatic world of Les Cités Obscures (literally: The Obscure Cities) which in turn reverberates in the very structure of DW5 Armilia. Eschewing the dictates of scale and proportion, Denis Flageollet, Master Watchmaker and co-founder of De Bethune, passionate about The Obscure Cities, has imagined a wrist-sized sculpture, engraved as a direct reference to a drawing of the underground City of Armilia.

Dream Watch 6

The Sky: De Bethune sees it bigger, deeper, wider, more experienceable... transcended. De Bethune presents the Dream Watch 6, a unique table clock designed in close collaboration with the Swiss artist Jörg Hysek who reinterprets De Bethune's DNA with this creation whilst aspiring to a different vision of the world.

DB28XP

2020 : De Bethune Celebrates the 10th Anniversary of the DB28. Drawing on the quintessence of the DB28's DNA, De Bethune gives birth to three watches, all linked by an enduring bond. At once completely different and naturally complementary, together they tell the story of 10 years of intense work and research, of a mechanical and aesthetic quest. Opening a New Chapter in Substance: Ultra-Thin by De Bethune.

DB28 Steel Wheels Sapphire Tourbillon

On the occasion of the Geneva Watch Days, De Bethune presents the iconic DB28 Steel Wheels now for the first time equipped with a tourbillon. The movement's delta bridge and two barrel covers are made of sapphire crystal. Faithful to the DNA of the 'Maison' nestled in Sainte Croix in the Swiss Jura mountains, the DB28 Steel Wheels Sapphire Tourbillon ably perpetuates the heritage of its predecessors: perfect balance, contemporary and bold aesthetics at the service of exceptional mechanics.

DW5 Cempasùchil

De Bethune presents: DW5 Cempasúchil, a one-off creation for the Maestri'art Collection. As every year in Mexico on the Day of the Dead, the Cempasúchil blossom sings the joy of an enduring and endearing celebration. This timekeeper is the result of a three-way conversation: a dialogue that spans two eras, between two exceptional art engravers. One is José Guadalupe Posada, the legendary Mexican engraver and virtuoso who made the dead dance at the end of the 19th century. The other is Swiss artisan engraver Michèle Rothen who interprets Posada's work with her contemporary talent, working in close concert with Denis Flageollet, master watchmaker and founder of De Bethune.

DB28GS "Yellow Submarine"

A diver's watch in the colors of fire with a water resistance to more than 100 metres; excellent readability including in the darkest depths thanks to ingenious lighting inside the movement and a new photoluminescent blue, a different bezel that rotates this time with the crystal to indicate dive times; a titanium case for a light feel and a rubber strap for convenience; along with a five-day power reserve.

DB Kind of Two Tourbillon

De Bethune presents a watch endowed with two faces. Two dials, two identities. A technical and aesthetic exercise that opens up a whole new field of research.

DB28XP Meteorite

A crystallised moment, testifying to the very birth of a galaxy! De Bethune pays tribute to the pure and unrestrained force of nature. Created from a meteorite, the DB28XP Meteorite inspires and touches the explorer's heart beating in every human being.

DB25 GMT Starry Varius

With the release of its 29th in-house calibre, De Bethune is combining its traditional expertise with cutting-edge technology to integrate the first-ever complication into the heart of an emblematic timepiece: the DB25 Starry Varius. De Bethune is offering a travel watch at the very moment when life resumes its course.The little sister of the DB25 World Traveller introduced in 2016, this new GMT model accentuates the aesthetic appeal and undeniable character of the DB25 Starry Varius.

"Best of the best" prize

In June 2021, De Bethune is so thankful to have been awarded a Robb Report Best of the Best award for the most interesting Function for the DB Kind of Two Tourbillon.

Dream Watch 5 Tourbillon 'Season 1'

An anthem to transparency and light: De Bethune presents the Dream Watch 5 Tourbillon 'Season 1'. This timepiece is the result of a genuine challenge issued to De Bethune by the American star Swizz Beatz. Denis Flageollet and his team came up with a response. Mastery of sapphire crystal, skilled workmanship in titanium, horological virtuosity: the outcome is an exceptional timepiece, breathtaking in its singular technical sophistication and aesthetics, as visually understated as it was complex to create. Only 10 of these timepieces will be produced.

Grand Prix D'Horlogerie de Genève

In November 2021, De Bethune receives the prize for the best watch of the year in the prestigious "Tourbillon" category, for the DB Kind of Two Tourbillon.

"Kind of Magic" for Only Watch 2021

In support of the Only Watch biennial charity auction of unique timekeepers, De Bethune and Voutilainen, two beautiful independent manufactures have decided to join their strength and know-how while respecting this tradition of independence and keeping a common vision of watchmaking.

DB25 Perpetual Calendar

De Bethune launches a new DB25QP with a green guilloche dial and a new titanium case